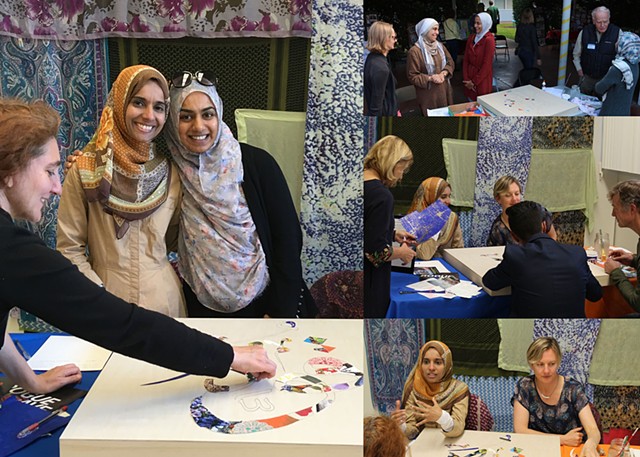 'Strength in Diversity - and what's with the hijab?'
a collaboration with Rasha ElSayed, Lubna Shaikh and Melissa Wyman
2017
We are a group of women interested in bringing the community together to collaborate and create an artistic expression of curiosity, openness and a tapestry of ideas that connect us as human beings.
This ongoing project comes in response to the urgent need to make a space for people to participate in personal and meaningful dialogue with others who are painted to be different. We invite people to add their own cutout shapes of various designs and color to a collective collage depicting the word "strength". During this artistic process, we invite members of the community to engage in conversation, around a work of art, with questions they have about Islam, being a Muslim, and wearing a hijab.
Rasha ElSayed is a program evaluator and researcher in education, and is also a design thinking instructor to high school students. She is originally from Egypt and has lived in Kuwait and the UK. She moved to California nine years ago and is a Palo Alto resident.
Lubna Shaikh is an artist and teacher currently living in the Bay Area. She works with several different mediums and in various styles. Her business, Revival Arts, began with hand carved candles and has grown throughout the years. She also currently co-runs a unique Sunday school program (an art and nature based coop, ALIF), and teaches Quran to children. www.revival-arts.com
Melissa Wyman is an interdisciplinary artist born in Summertown, Tennessee but grew up in Northern California and, after many years of living overseas, now lives Palo Alto. Her work is often participatory and incorporates performance, video, installation, drawing, painting, fighting/negotiating and social practice. She occasionally makes objects. www.melissawyman.info
So far, 'what's with the hijab?' has taken place at community day celebrations and art shows in the Palo Alto area. We are looking for more opportunities to engage with the pubic in a variety of community settings.
This is part of a series of "Empathy Projects" with multiple contributors.
The Empathy Projects are a series of participatory works with the goal of creating openings and bridges across various political, ideological and religious divides. More information coming soon.